Moselle boat trip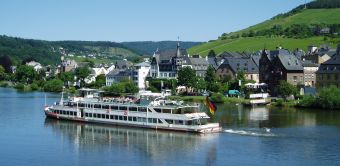 If you're in the mood for a memorable excursion and magnificent views of the viticultural landscape, we recommend a boat trip on the Moselle.
Enjoy the views from the boat. There is no better way to enjoy the stunning landscape than from the Moselle river itself. Start your Moselle boat trip in the districts of Traben, Trarbach or Wolf, and enjoy panoramic views both up- and downriver.
For information about departure times and prices, go to the websites of the shipping company Gebr. Kolb.