Moselle spa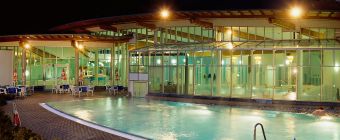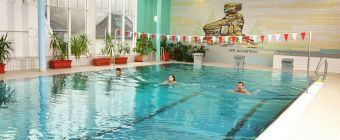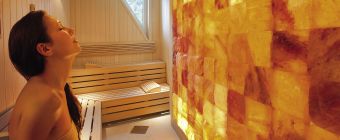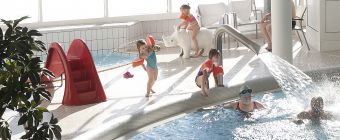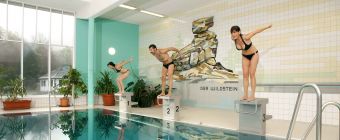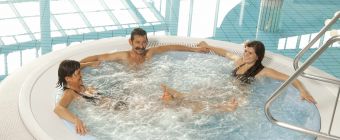 Pure relaxation
Immerse yourself in a 2000-square metre world of water and steam. And a range of saunas you will love. You will re-emerge like a new person.
The Moseltherme spa is the only thermal spa on the Moselle. Here you can enjoy great views of the vineyards of Traben-Trarbach while relaxing and gathering new strength.
Here you can be active as well as relax. You can pamper your body and soothe your soul.
In short, a world of its own you can immerse yourself in and forget about the stresses of everyday life. A paradise of relaxation where hours turn into minutes.
The Pool Landscape
Hot Spring Pool in the Moselle spa
140 sq. m., 12.50 m diameter
Water temperature 32 °C
Massage jets
Water sprinkler
Bubbling water
Benches for lying in the water
Bench with air jets
Underwater floodlights
Whirpool
9.5 sq. m., 3 m diameter
Water temperature 36°C
Area for small Children
20 sq. m.
Water temperature 35 °C
Water fountain
Animal spouting water
Sports Pool
210 sq. m.
Water temperature 28 °C
3 diving boards
Underwater floodlights
Solariums
Outside Pool
130 sq. m.
Water temperature 31 °C
Under water bench
Massage jets
Bubbling water
Underwater floodlights
Can be reach from the hot springs hall directly via a sluice
Open all year
The Sauna Landscape
Two dry, finnish saunas with 80°C and 90°C
bio sauna
salt sauna
steam sauna
Shower area
Immersion basin
Foot-warming basin: warm/cold
Sauna garden
Lounge chair hall
Higher water temperatures in the foot-warming basins
Colder temperatures in the showers and immersion basin
The Outside Area
Sun terrace
Sunbathing lawn
Table tennis
Shady parking spaces
Parking spaces for disabled persons
Bus stop only 100 m away
Food and Drink
Vitamin bar and Sauna bar in the hot springs hall and in the external visitor area
Opening Times
Sauna Landscape
| | | |
| --- | --- | --- |
| Monday | Mixed | 2 p.m. – 9 p.m. |
| Tuesday | Ladies | 1 p.m. – 10 p.m. |
| Wednesday | Mixed | 1 p.m. – 10 p.m. |
| Thursday (01.09.-30.04.) | Mixed | 1 p.m. – 10 p.m. |
| Thursday (01.05.-31.08.) | | closed |
| Friday | Mixed | 1 p.m. – midnight |
| Saturday, Sunday and holidays | | 10 a.m. – 6 p.m. |
Closing times
15th of February, 1st of May, 24 and 25 December.