Buddha Museum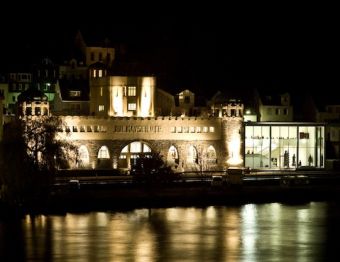 Traben-Trarbach is home to a unique Buddha collection; an exhibition in the Moselle valley examines and questions the fascinating world of Buddhism. Buddhist art, especially various Buddha figures from many Asian countries, form the basis of this unique symbiosis of ancient wine culture in the Moselle valley and Buddhism as a teaching, philosophy and worldly wisdom.
The 4,000 sqm exhibition space, including a 1,000 sqm roof garden and open area, is in the old art nouveau winery "Julius Kayser", which was built by the architect Bruno Möhring from Berlin. The art nouveau elements on this enormous space create an invigorating and exciting atmosphere. Here, you can experience Buddhism as a teaching, philosophy, and religion of different cultures. Many pictures, sculptures, and other pieces take visitors through a living culture that has had an enchanting effect on many people for 2500 years. The complexity of Buddhism is illustrated by modern multimedia installations.

BUDDHA-MUSEUM
Bruno Möhring Platz 1
56841 Traben-Trarbach
Tel.: 06541-816518-0
Fax: 06541-816518-8
e-Mail: info@buddha-musuem.de
www.buddha-museum.de
Opening hours:

tuesday to sunday: 10:00 a.m. - 6:00 p.m.