Buddha Museum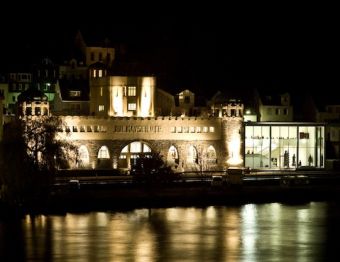 Traben-Trarbach is home to a unique Buddha collection; an exhibition in the Moselle valley examines and questions the fascinating world of Buddhism. Buddhist art, especially various Buddha figures from many Asian countries, form the basis of this unique symbiosis of ancient wine culture in the Moselle valley and Buddhism as a teaching, philosophy and worldly wisdom.
The 4,000 sqm exhibition space, including a 1,000 sqm roof garden and open area, is in the old art nouveau winery "Julius Kayser", which was built by the architect Bruno Möhring from Berlin. The art nouveau elements on this enormous space create an invigorating and exciting atmosphere. Here, you can experience Buddhism as a teaching, philosophy, and religion of different cultures. Many pictures, sculptures, and other pieces take visitors through a living culture that has had an enchanting effect on many people for 2500 years. The complexity of Buddhism is illustrated by modern multimedia installations.
The exhibition team are also working on a knowledge database that stores extensive information all about Buddhism. Visitors have access to this database. The idea is for the collection to grow over time and become an information centre for Buddhist art that can be used as a platform for collectors and other interested people. The centre is a place for a journey into another world, and it encourages discussion and exchange. In addition to the main three Buddhist groups Theravada, Mahayana, and Vajrayana, the collection also includes items from many subgroups of this teaching and philosophy.
The centre also offers a very special kind of event series which is held once a month by Media Mystika GmbH. The talks about culture, education, and spirituality benefit from the special ambience of the Buddha House. The lectures and events hosted by interesting and well-known people are a valuable contribution to the origins of mysticism and the wisdom of all world religions. Selected events can be shown live over the internet or be recorded for DVD and TV using professional studio Technology.

BUDDHA-MUSEUM
Bruno Möhring Platz 1
56841 Traben-Trarbach
Tel.: 06541-816518-0
Fax: 06541-816518-8
e-Mail: info@buddha-museum.com
www.buddha-museum.de
Opening hours:

April to october

thursday to sunday: 10:00 a.m. - 6:00 p.m.