Old town tower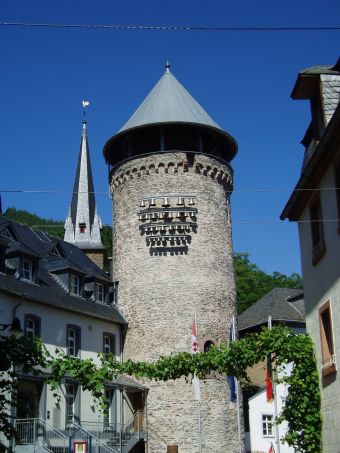 The historic town tower, which was restored in 2004, is by far the most impressive relic of the medieval town fortification of Trarbach. Its many towers, bastions, and three town gates once stretched along the bank of the Moselle and the Kautenbach brook, across Kästel mountain and all the way to the Grevenburg ruin. The wall was erected around the time as the town of Trarbach and Grevenburg castle, around 1350. It was built by count Johann III of Sponheim, the son of the legendary countess Loretta, who in 1328 abducted archbishop Balduin of Trier and held him captive in the neighbouring Starkenburg castle. Today the tower, which originally was one story higher, serves as a viewing tower that affords magnificent views across the roofs of the twin town. The tower also accommodates a historic collection of mantelpieces, chimney plates, and stove plates, which are part of the Mittelmosel Museums 50 metres away.
Town tower glockenspiel
The glockenspiel was installed on the occasion of the "100 Jahre Stadt Traben-Trarbach" anniversary celebration on the initiative of the "Traben-Trarbach Aktiv" club and inaugurated on 26 September 2004. The bells were cast by the Bachert family business from Karlsruhe who also made the world-famous bells of the Frauenkirche church in Dresden. The glockenspiel in Traben-Trarbach is made from 28 bronze bells, making it the largest glockenspiel in the Moselle region. The largest bell weighs 80 kg, and the smallest weighs 7.6 kg. Its total weight is 611.6 kg.
Playing times glockenspiel
Daily at: 12.00, 15.00, 16.00, 17.00 and 18.00
Address: Mittelstraße