Zeitreise-Museum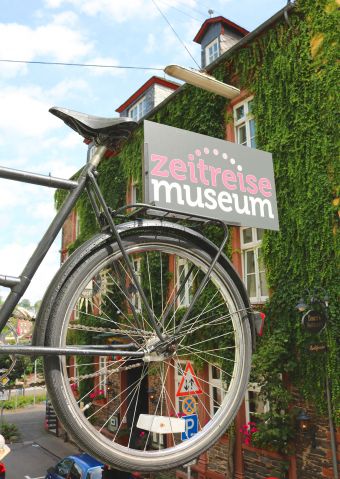 Join us for an entertaining journey through time!
You can immerse into old times in our extensively restored former ballroom of the "Haus am Stadtturm", which was re-opened in 2017 – offering something interesting for everybody!
Our manifold exhibition presents historic and iconic bicycles from the early days of the runner wheel to cultic bicycles, accompanied by anecdotes and stories. Also shown are interesting bicycle accessories such as carbide lamps and handlebar brand signs.
The collection of dolls, dollhouses, and antique toys was carefully restored. Some of the dollhouses copy the original living worlds of rich wine dealers in the 1920s.
Also interesting are the antique trains, train stations, and rail tracks from former times.
The colorful world of the 50s becomes very vivid in the exhibition of furniture, technology, and fashion. Numerous exhibits – all of them functional – bring the exciting 50s back to life. Perhaps you still remember the stars from music and magazines...
A lovingly restored original 50s bar is also part of the museum and a location, where private and cultural events take place.
Zeitreise-Museum
Moselstraße 2
56841 Traben-Trarbach
Tel.: 0 65 41 - 8145866
e-Mail: HausamStadtturm@web.de
Opening hours:

From Easter until 01.11.2023
Saturday and Sunday as well as holidays: 10.00 - 12.00 hrs.
On all Moselle Wine Night Market weekends
Saturday and Sunday: 10.00 - 12.00 hrs.
24.-26.12.2023 closed
Off-Season
Group reservations possible on request.